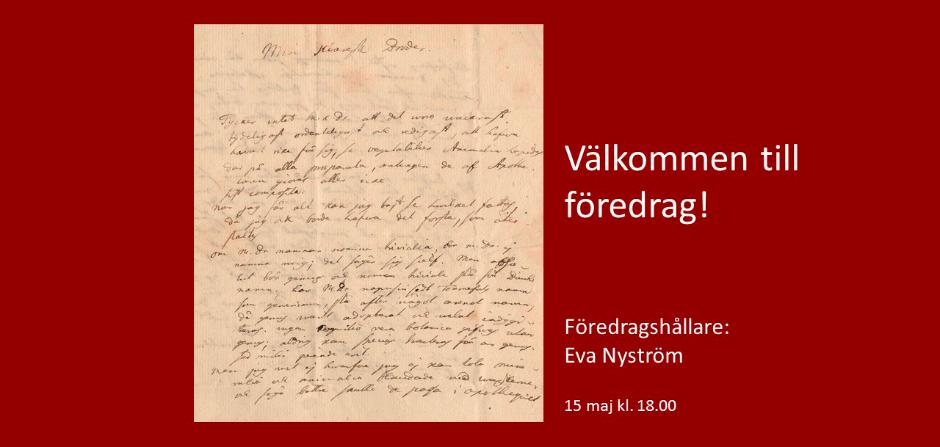 Carl von Linnés (1707-1778) korrespondens är under utgivning på internet, The Linnaean Correspondence (LÄS MER HÄR). I föredraget behandlas förutom korrespondensens omfattning, och utbredning, även tidigare utgåvor och olika utgivningsprinciper. Därtill kommer att ges exempel på några forskningsfält där materialet kan komma till användning: förutom det renodlat botaniska, även sådant som rör naturforskningens vardagstillvaro, tidens nätverkande och karriärplanering, materiella förutsättningar för den veten- skapliga publiceringsprocessen samt om korrespondensen i sin helhet som ett forum för forskning och samarbete i 1700-talets Europa och övriga delar av världen. Några speciellt intressanta korrespondenter och deras brev till och från Linné kommer dessutom att belysas närmare.

EVA NYSTRÖM är forskningsredaktör vid utgivningen av The Linnaean Correspondence, och ingår i styrelsen för Hagströmerbibliotekets vänner.

TISDAGEN 15 maj 2018 kl. 18.00
HAGSTRÖMERBIBLIOTEKET, HAGA TINGSHUS
Buss 57 (Sveavägen), Buss 515 (Odenplan) Hållplats Haga Södra
Anmälan före 8 maj
Email: gertie.johansson@ki.se – Telefon: 08 5248 6548
Förfriskningar serveras
Medlemmar inträde 130 kronor, icke medlemmar 180 kronor

Brevet på bilden är från Linné till Abraham Bäck (1713-1795) och daterat den 13 November 1761. Det tillhör Hagströmerbiblioteket, MS:27:119 och har i den digitala utgåvan nr L2995. Det var inte känt när korrespondensen mellan Linne och Bäck publicerades i Bref och skrifvelser af och till Carl von Linné (Stockholm, 1907-1943). "Denna dyra samling af Bref vore värd at göras public, som den innehåller många hundrade bref, uti hvilka afhandlas alt märkvärdigt, som upkommit ifrån 1735 till hans död" (Ur Vita Caroli Linnaei, III).