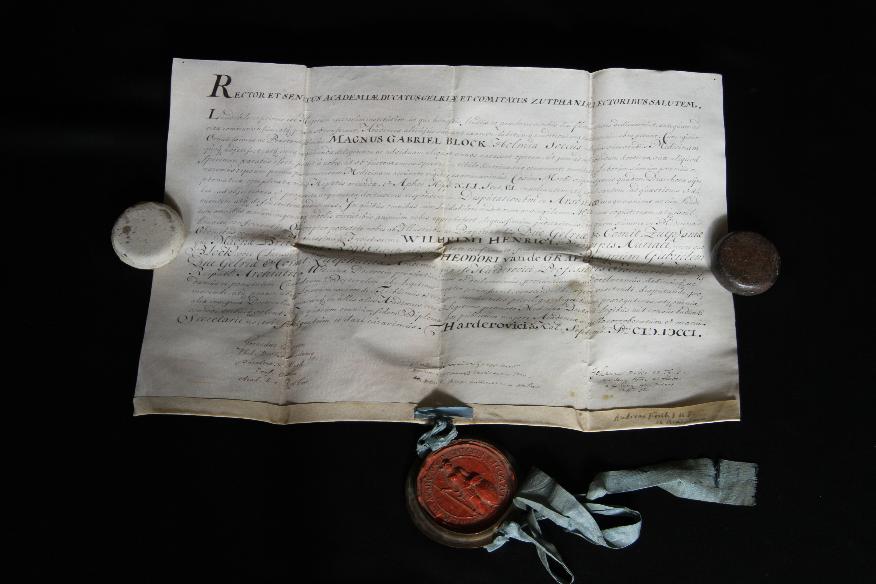 New acquisition
Magnus Gabriel von Block's hitherto undocumented doctoral diploma from Harderwijk University, autumn 1701. Parchment letter with light blue silk ribbon tie bearing a red seal dated "3. Kal. Septemb. MDCCI" (30 August 1701)". Signed by the university's rector Gerhard Wijnen.
It was not possible to attain the status of doctor of medicine in Sweden at this time, so on receiving his title at Harderwijk University in Holland, Magnus Gabriel von Block (1669–1722) became the first of a long list of Swedes to graduate at "the philanthropic little doctor's factory" of Harderwijk, where a generation later Nils Rosén [von Rosenstein] and Carl Linnaeus also took the title of doctor of medicine. This document, which marks the beginning of one of the most interesting medical careers in Swedish academic history, was previously unknown to historians. For example Olof Hult wrote in Svenskt biografiskt lexikon that Block "probably" graduated in 1702. Sten Lindroth observes that very little is known of Block's journey, but could establish the date of his graduation, very possibly from the archives in Harderwijk. For Block, the entire process took a week. He was enrolled at the university, where he was generously referred to as a medical student, on 23 August, and seven days later, under the auspices of the rector, philosopher Gerard Wijnen, defended his thesis on arsenic: Scrutinum arsenici, physico-chemico-medicum dissertatione inaugurali . . . pro doctoratu gradu (Harderwijk, 1701). The copy presented to the Collegium Medicum currently resides in the Hagströmer Library, now in the company of Block's diploma. Such theses from Harderwijk were printed in very small numbers and are thus considerable rarities.
Once he had graduated, it remained for Block to obtain a licence to practise medicine in Sweden. Clutching his parchment letter, he appeared before the Collegium Medicum in Stockholm on 13 December 1702. Six members gathered this day at the home of president Urban Hiärne to hear Block present his doctoral diploma from Harderwijk and his thesis on arsenic. The assembled doctors took turns in cross-examining him and Bock duly answered their questions. Hiärne himself wanted to know if a person with dropsical scorbutica should be treated with purgative and sudorific medicines, and Block answered in the affirmative. Having passed the interview, he signed the Collegium's statutes, swore the traditional oath, and paid 150 daler kmt to the Collegium's treasury. He also became a member of the Collegium Medicum at the same time.
Block was now free to begin his medical career. A man of his talent should have been able to go far. A lucrative practice in the capital, crowned with the post of personal physician-in-ordinary or professor at one of the medical faculties would have appeared a natural objective. But Block had other plans. Throughout his adult life, ever since his self-imposed exile in Florence, he longed for peace in which to study and a place of shelter away from the din of the outside world. He wanted to live with his books, his chemical experiments and his musings over the problems of science and the paradoxes of life. Block had tasted worldly vice and the vanities of court life, and found them unappealing, so opted for the modest lot of the provincial doctor. Just a week after his acceptance, he appealed to the Collegium Medicum for a recommendation for the position of provincial physician in Östergötland. In the spring of 1703, Block moved to Norrköping, the county's administrative seat , where he remained, serving as provincial physician, for the remaining twenty years of his life.
With his dialectical skills and his wit, learning and eloquence Block made quite a name for himself. He is said to have been able to speak eleven languages and write in thirteen. A few years previously, while in Italy, a cardinal admitted him into his retinue and took him to Florence, where the Grand Duke of Tuscany employed him as his cabinet secretary. This was in 1697, and when Olof Celsius the elder visited Block during his trip to Italy that same year he found him living in a stone-built house surrounded by a pretty little garden. Here, in the home that Block had been granted by his princely master, Celsius lodged in much comfort, since his host enjoyed "a goodly wage" and was supplied with excellent wine from the grand-ducal cellar.

Block was an all-rounder, with a rich intellect that thirsted for knowledge in a wide variety of fields. His writings tell us that he was very widely read and intimately familiar with past and present cultures. Alongside medicine and his language, he had a particular passion of chemistry, alchemy and mineralogy. His style is scintillating and distinguished by a caustic rhetoric and pointed sarcasm. Block was a bibliophile, and as soon as he was drawn to a particular book he had to purchase it "whatsoever she may cost".