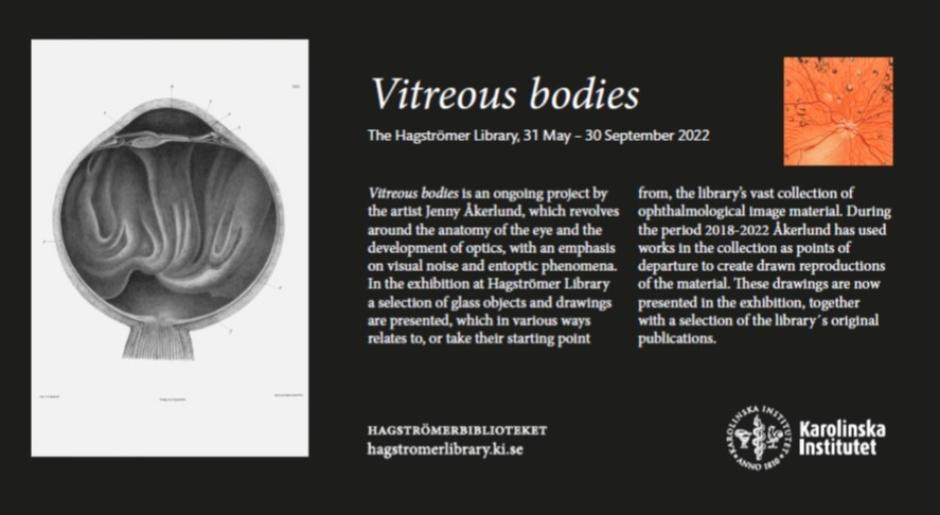 New exhibition at the library - opening 31 May!
Jenny Åkerlund (b. 1984) holds an MFA from Malmö Art Academy. Her work has, among other places, been exhibited at Kunsthal Charlottenborg, Copenhagen, Goya Curtain, Tokyo, Galerie Thaddaeus Ropac, Pantin, Galleri Tom Christoffersen, Copenhagen, Galerie Jeanroch Dard, Paris and Museum of Contemporary Photography, Chicago.

The exhibition shows a rich selection of works from the Hagströmer Library's collection of books in ophthalmology and related subjects. Among other things, Georg Bartisch's Ophthalmodouleia from the year 1583 is presented, which is illustrated with hand-coloured woodcuts which depict various treatment methods for curing eye diseases. Other works consist of some of the 17th and 18th century's most fascinating microscopy books, including Robert Hooke´s influential Micrographia from 1665 and Antonie van Leeuwenhoek's Epistolae ad societatum regiam anglicam from 1719. Some of the most magnificent ophthalmological atlases of the 19th century are also on display, including Hermann von Helmholtz's Beschreibung eines Augen-Spiegels zur Untersuchung der Netzhaut im lebenden Auge from 1851, whose images are produced using an ophthalmoscope, Helmholtz's groundbreaking invention from the same year. With the ophthalmoscope, he was able to study the anatomy of the eye on living patients for the first time. Among the more modern works in the exhibition are some writings by Allvar Gullstrand, who in 1911 became Sweden's first Nobel laureate in physiology or medicine. The exhibition also shows a number of borrowed objects from the Museum of Medical History in Uppsala and the Museum of Medical History in Stockholm, including unique wax models made at La Specola in Florence and donated to KI in 1825. Curator: Anna Lantz, Hagströmer Library, Karolinska Institutet.
TUESDAY 31 MAY 2022, 17.30 – 19.30
Hagströmer Library Haga Tingshus
Bus 515 (Odenplan) stop Haga Södra

The exhibition will be presented by the artist Jenny Åkerlund together with curator Anna Lantz.

RSVP by May 28 to Hagstromerlibrary@ki.se 08-524 86012
Vitreous bodies - Hagströmer Library 31 May – 30 September 2022