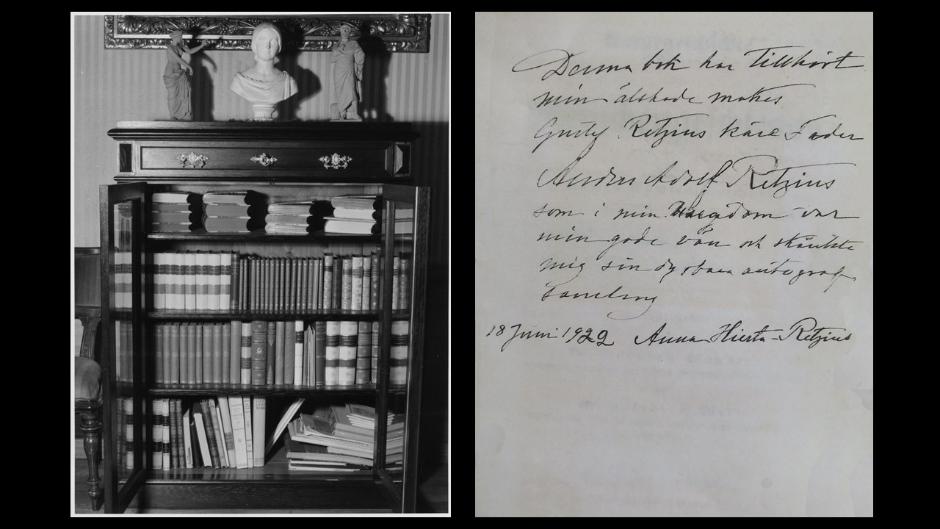 The Library of Gustaf Retzius
In early December 1920, the Swedish daily newspaper Svenska Dagbladet had an announcement to make: "The Book-collection of Gustaf Retzius to 'Karolinska.' – Generous Donation to the Library of the Institute. – At Present the Library only has Room for a Third."
As is well known, Gustaf Retzius was one of Sweden's most prominent scientists in the late 1800s and the first years of the 20th century. He worked in several fields: histology, neurology, anatomy, physiology, to name the most important. He also did research in physical anthropology, and that has been the reason for more or less well founded criticism in later years. Retzius died in 1919, and a year later his widow Anna Hierta Retzius donated his books to Karolinska Institutet. The news article goes on to say that it is a gift "that in value puts all former donations to shame … an estimated 150 shelf meters … completely outstanding … cannot be valued in money." The lion's share of the collection is now housed in the Hagströmer Library and is still of great importance to scientists and scholars of today. A select few of the books will for instance shortly be part of an exhibition, History Unfolds, at The Swedish History Museum. Regrettably the books are not kept as a separate unit of its own, but are found spread throughout the Hagströmer Library, arranged according to subject.
A large part of the collection has been inscribed personally to Gustaf Retzius and the collection of signatures is like a Who's Who of the international scientific community at the time. Which leads me to the second part of this small essay. Anna Retzius was very much devoted to the work of her husband and you can find notes here and there in her hand explaining how she (and Gustaf) wanted the legacy to be handled. This is true not just of the books but just about everything. A German translation of the several volumes strong Natural History of Man by James Prichard; Naturgeschichte des Menschengeschlechts. Nach der dritten Auflage des englischen Originals mit Anmerkungen und Zusätzen hereausgegeben von Rudolph Wagner & Friedrich Will, Leipzig, Leopold Voss, 1840–1848, is to be found in the Retzius collection. In volume 3:1 Anna has written: "This book has belonged to my beloved husband Gustaf Retzius' dear father Anders Adolf Retzius, who in my youth was my good friend and bestowed me his valuable collection of autographs. Anna Hierta-Retzius, June 12, 1923." Besides contributing interesting provenance information, the inscription makes you wonder. Whatever happened to the collection of autographs?
Back to the article in Svenska Dagbladet. It eerily foretells the conditions found also today; "… it is necessary that additional staff can be made available, since the present staff is already under ordinary conditions not sufficient …"
Dan Jibréus, 19 October 2016
Postscript:
The ever diligent scholar Nils Uddenberg happened to see the above text and gave me a strange look. "Anna's statement isn't quite true," he informed me. While recently doing research in the archives of the Royal Swedish Academy of Sciences, Stockholm, he had come across a couple of letters from Anna to Gustaf where the autograph collection is mentioned. Nils was kind enough to copy the letters for me. They are written in April 1876, that is, seven months before they got married the same year. There is a definite undertone of yearning in the language Anna uses. In the first letter she states how happy she is to have been given Anders Retzius' collection of letters/autographs, but that she will always look upon it as belonging to Gustaf. Apparently Gustaf misinterpreted this as some sort of clandestine ungratefulness, and in the second letter Anna hastens to emphasize how happy she is with the gift, and that she will treasure it the rest of her life! Thus Anders Retzius' collection was given to Anna by Gustaf, not by her father-in-law Anders, and it happened 16 years after Anders' death. Anna's memory might well have clouded a bit over the years. By the way – this collection is safely kept at the Royal Swedish Academy of Sciences.

Illustrations:
One of the Retzius family bookcases. Photograph from around 1920.
Anna Retzius-Hierta's comment concerning Anders Retzius' autograph collection.