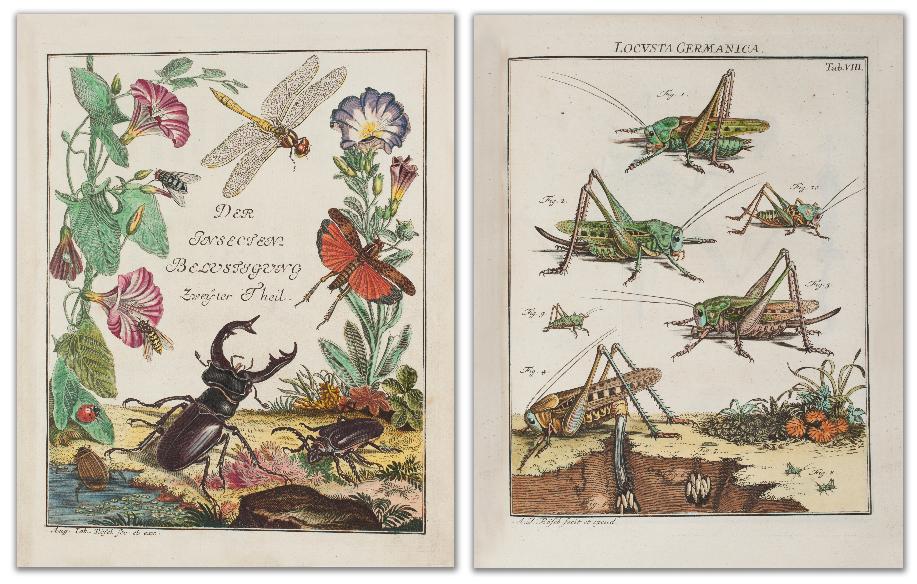 New acquisition!
August Johann Rösel von Rosenhof (1705–1759)
Der monatlich-herausgegeben Insecten-Belustigungen . . . Erster- [vierter] Theil.
Nuremberg, Johann Joseph Fleischmann, 1740–1761.
Four volumes, uniformly bound in contemporary mottled calf, gilt double fillet around sides, spine with five bands, richly gilt in compartments, red and green morocco spine labels, gilt lettering.
After studying painting with his uncle and father and at the Academy of Nuremberg Rösel obtained an appointment at the Danish royal court in Copenhagen painting portraits and miniatures. Two years later in 1728 he fell ill during the return trip to Nuremberg and had to spend a month recuperating in Hamburg. By chance a copy of Maria Sibylla Merian's amazing Metamorphosis Insectorum Surinamensium was introduced to him during his convalescence and after studying its splendid hand-coloured plates he decided to devote the rest of his life to the study of insects and to publish illustrated natural history books. After years of preparation the first instalment of his monthly Insecten-Belustigungen appeared in 1740. The work was immediately praised for its outstanding illustrations. The first volume, mainly devoted to butterflies, was completed in 1746. The second volume is dealing with beetles, grasshoppers, crickets, flies and dragonflies. The last instalment of the third and the whole of the fourth volume (1756–61) were taken over by his son-in-law and closest collaborator, Christian Friedrich Lemann (1735–1789). Rösel's "Insect amusements" with its lovely frontispieces with insects and over 400 illustrations with many figures for each insect showing eggs, larva, pupa, etc. is one of the great classics within the entomological literature and one of the most brilliant colour-plate books of the period.