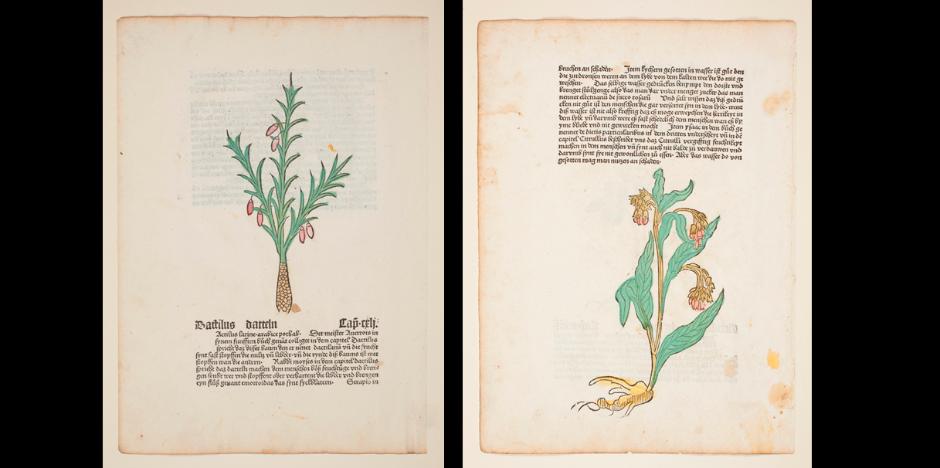 Johannes Gutenbergs 42-radiga Bibel från år 1455 är den första boken som trycktes med lösa typer i Europa och brukar därför kallas för "den första tryckta boken". Hagströmerbiblioteket har inga böcker av denne pionjär i sina samlingar, men däremot två lösa blad från en bok som trycktes av Peter Schöffer år 1485. I början av sin verksamhet arbetade han med Gutenberg i dennes tryckeri, bl.a. med tryckningen av den berömda Bibeln, men omkring år 1456/1457 startade Schöffer ett eget tryckeri tillsammans med Johann Fust som tidigare varit Gutenbergs finansiär. Till deras tidiga alster hör den berömda Psaltaren från år 1457 (Läs mer om Psaltaren: HÄR). Efter Fusts död år 1466 drev Schöffer verksamheten vidare i eget namn och fram till sin bortgång tryckte han över 250 olika verk: böcker, pamfletter, dokument, almanackor och kalendrar etc. Nästa alla verken är inom ämnena teologi eller juridik, men två av dem är örtaböcker.

Örtaböcker är verk som innehåller namn och beskrivningar av framför allt växter och deras medicinska egenskaper. Ämnet var angeläget och böckerna användes inom läkekonsten för att med växternas hjälp bota och lindra diverse åkommor och sjukdomar. Verken tillhör en lång tradition, allt sedan antiken cirkulerade texter om medicinalväxter i Europa i form av handskrivna manuskript. Av de antika texterna kom greken Dioskorides Materia Medica från omkring år 65 e. Kr. att ha särskild betydelse och dominerade botaniken ända in på 1500- och 1600-talet. De äldsta tryckta örtaböckerna saknar i regel en namngiven författare och både texter och bilder är kopierade ur äldre verk snarare än baserade på egna erfarenheter.

Schöffers första örtabok Herbarius latinus från år 1484 är skriven på latin, i kvartoformat och illustrerad med ca 150 träsnitt. Den innehåller mer bilder än alla tidigare tryckta örtaböcker. Följande år utgav han sin andra örtabok Gart der Gesundheit, som är i större folioformat. Den innehåller mer än dubbelt så många illustrationer, hela 379 träsnitt varav de flesta är mellan 12-18 cm och av bättre kvalitet än dem i föregångsverket. Bildernas storlek tillåter att fler av växternas detaljer kan återges. Generellt är växterna tecknade mer realistiska än dem i föregångsverket och de är inte kopierade från äldre botaniska bilder som var det vanliga förfarandet. Gart der Gesundheit var Schöffers mest ambitiösa illustrerade verk hittills och med dess bilder lade han grunden för den vetenskapliga botaniska illustrationskonsten. Boken innehåller 435 kapitel, varav nästan alla handlar om växter, men några av dem handlar istället om mineraler, djur eller uroskopi, en medeltida metod för att ställa diagnos genom att studera färgen på patientens urin, som hällts upp i en flaska och hålls upp mot ljuset.

Konstnären är troligtvis Erhard Reuwich, som tryckte och även illustrerade Bernhard von Breydenbachs berömda Peregrinatio in Terram Sanctam, 1486 (Resa till det heliga landet), den första illustrerade reseskildringen som också blev en internationell bestseller - men det är en helt annan historia!

Anna Lantz, 14 september 2018

References
Anderson, Frank J, An Illustrated History of the Herbals (New York: Columbia University Press, 1977).
Arber, Agnes, Herbals, their Origin and Evolution, a Chapter in the History of Botany 1470-1670 (Cambridge: Cambridge University Press, 1953).
Lehmann-Haupt, Hellmut, Peter Schoeffer of Gernsheim and Mainz (Rochester, N. Y: Printing House of L. Hart, 1950).
Baumann, Brigitte & Hellmut Bauman, Die Mainzer Kräuterbuch-Inkunabeln "Herbarius Moguntinus" (1484), "Gart der Gesundheit" (1485), "Hortus sanitatis" (1491), (Stuttgart: Hiersemann, 2010).