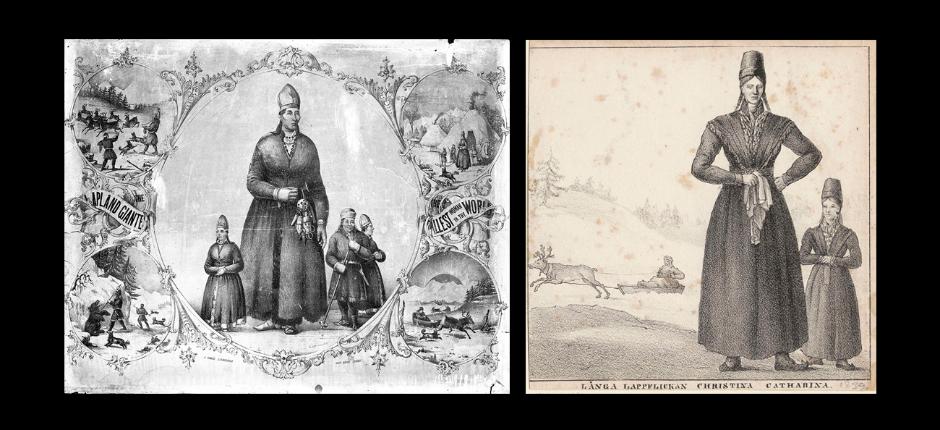 Gigantism part 1
The Tall Lapp Girl.
Many different events and human destinies have passed by in the history of Karolinska Institutet. Some stories make an indelible impression and seem worth telling and remembering. The fate of Kristina Katarina Larsdotter is one of them. Kristina was born in Brännäs (modern Malå) in Lappland on 19 January 1819. The reason for her fame was her unusual height and the fact that she never stopped growing. Most Sami are short of stature, but Stor-Stina (Big-Stina), as she was nicknamed, grew to at least 2.07 metres (6 feet 9.5 inches) tall, although reports vary. In an attempt to find a reason for her size, it was said that her mother Karin was frightened by her own moon shadow while pregnant.
Stor-Stina lived at a time when people were fascinated by the aberrant. In the absence of modern media and internet, people derived their information and pleasure by more direct means, and had no qualms about buying tickets to see exhibitions of natives and people with various deformities and specialities. It was the public entertainment of the day and a rich source of income for more enterprisingly inclined, especially their self-proclaimed "managers".
One such so-called impresario from Germany heard rumours of Stor-Stina and made his way to Brännäs. It is uncertain if he was called Kempe or Wolfenstein, but it is likely that they both collaborated with Stina at different points in time, with Kempe keeping an account of her in his diary. Stor-Stina agreed to travel to Stockholm and onto the continent to exhibit herself. We know she lived for a while in Gamla Stan and visited England and Germany. The money she earned enabled her to help her old parents and siblings, who lived at a time when the Sami people had only meagre livings to make in the transition from traditional nomadic herders to settled farmers. Apart from being large-limbed and extremely strong, Stor-Stina was said to have been gifted and managed virtually all her own affairs. In the end, she was able to buy her own homestead, where she lived with her sister Sara. Her parents, for their part, found it hard to fully abandon the old Sami ways.
According to a surviving medical report, Stina Larsdotter was examined by the Swedish Society of Medicine at Karolinska Institutet when she was 18 years old. They measured her body and noted down interesting phenomena, such as that she never menstruated, was prone to fainting, and was in chronic pain – symptoms that are consistent with the condition known as gigantism.
Many books have been written about the Tall Lapp Girl, both biographies and novels. It can be hard, however, to isolate fact from fiction, and there is often little to say what actually happened. We know that she died of gangrene in 1854, possibly after having been attacked by a bear, although that too could just be an invention. Her body was initially buried, but her grave was later opened and her corpse shipped from Umeå to Stockholm and Karolinska Institutet, where it was to be preserved for posterity and subjected to further examination. Her remains had been sold to the university, but whether their sale had been arranged by her before her death or by her parents afterwards is unclear. The society's records mention a Dr. Ångstrand from Lycksele, who helped to transport her body, and contain notes that the size of her skeleton, particularly her pelvis, was astonishing. The word was that Anders Retzius had made a plaster cast of her pelvis, and the Unit for Medical History and Heritage actually houses a plaster pelvis that could be this very same cast. Writer Selma Lagerlöf wrote in her diary that she was once shown the skeleton as a young girl on a visit to Karolinska Institutet. Perhaps she was the last to see it before the fire of 1892, which totally destroyed Stina's remains and much else besides.
There are today few traces left of the Tall Lap Girl: a handful of press cuttings and posters, a song, a couple of drawings, lithographs and a statue (which was erected at a later date). In 2009, a silver spoon was donated to Malå local history society bearing the inscription: "åt CC Larsdotter gifven af ett Sällskap i Sthm d 4 maj 1837" (For CC Larsdotter, presented by a Stockholm Society on 4th May 1837). It had been given to Stor-Stina as a present, and passed through several owners' hands before finding its way back to Malå. The homestead no longer exists, and a new house has been erected on the site.
Ann Gustavsson, 15 June 2016
Illustrations:
Stor-Stina i Malå. Litography, printed in Edinburgh before 1850. NMA 0041105 Nordiska museet.
Stor-Stina i Malå. Långa lappflickan Christina Catharina. Print from 1839. NMA 0041106 Nordiska museet.
References:
Broberg, G. "Lappkaravaner på villovägar. Antropologin och synen på samerna fram till sekelskiftet 1900." Lychnos, Lärdomshistoriska Samfundets Årsbok. Stockholm, 1981-1982, 30-37.
Hagberg, M. Rekviem för en vanskapt. Stockholm, 2012.
Lundgren, Å. Långa lappflickan, romanen och bakgrunden. Skellefteå, 2011, 177ff.
Lärarkollegiets protokoll med bilagor/ Signum: AIa/ Volym 7, 1853-57. Protocoller hållne vid Kungl. Carolinska Institutets Professorers sammankomster åren 1853-1857.
Svenska Läkaresällskapets protokoll KI Ms 194a:6
Verbal communication from: Olof Ljungström, Ass. Prof. History of Science and Ideas, Unit for Medical History and Heritage, Karolinska Institutet. Stockholm, June 2016.
Translation: Neil Betteridge